Zerbe Zelebration
April 9th is officially Karl Zerbe Day!!
Missed out on the Zerbe Zelebration back in 2021?
Don't worry, here's a recap of some of the fun!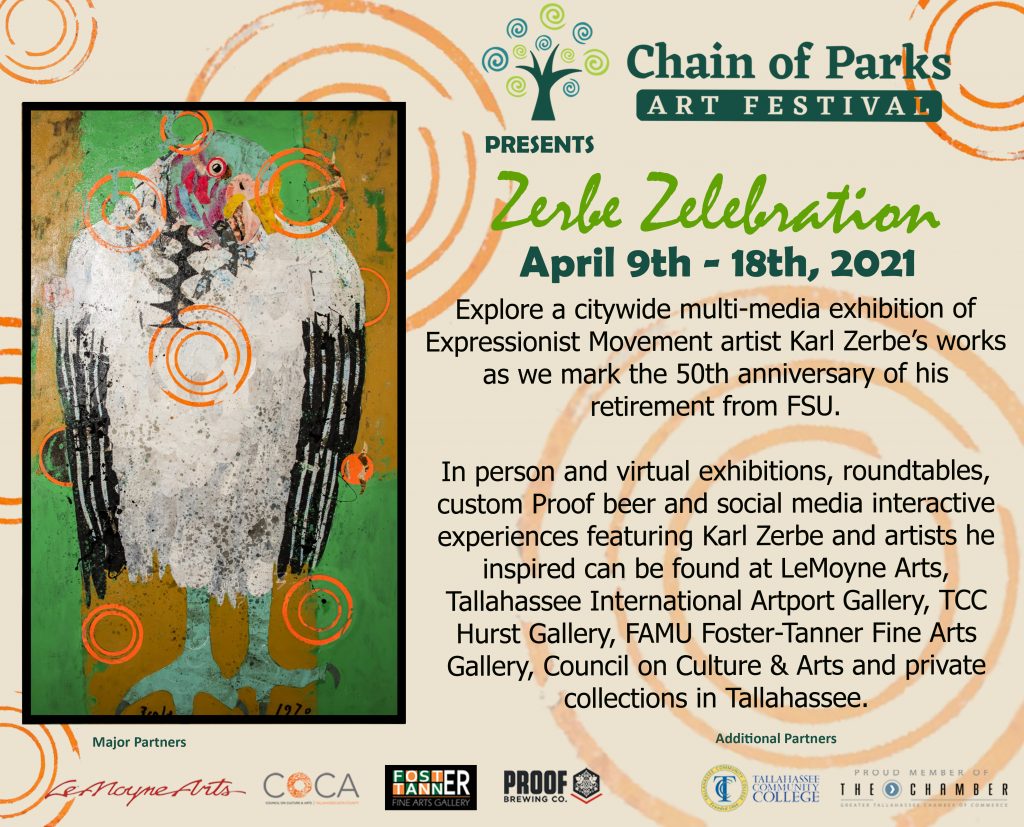 The Zerbe Zelebration, presented by LeMoyne Arts Chain of Parks Art Festival, was a City-wide FREE event to kick-off the festival, celebrating Expressionist Movement artist Karl Zerbe's 50th retirement anniversary from FSU, a renowned artist and professor. LeMoyne Arts has the largest collection of Zerbe's in the world (despite being in over 100 museums and galleries) and featured 8 never-before-seen pieces for the Zelebration. 
This Zelebration was a multimedia experience with an emphasis on civil rights dialog and community participation. Guest speakers, educational content, visual displays, and civic engagement centered around Zerbe inspired and strengthen our vibrant community in a fun and Covid-safe way.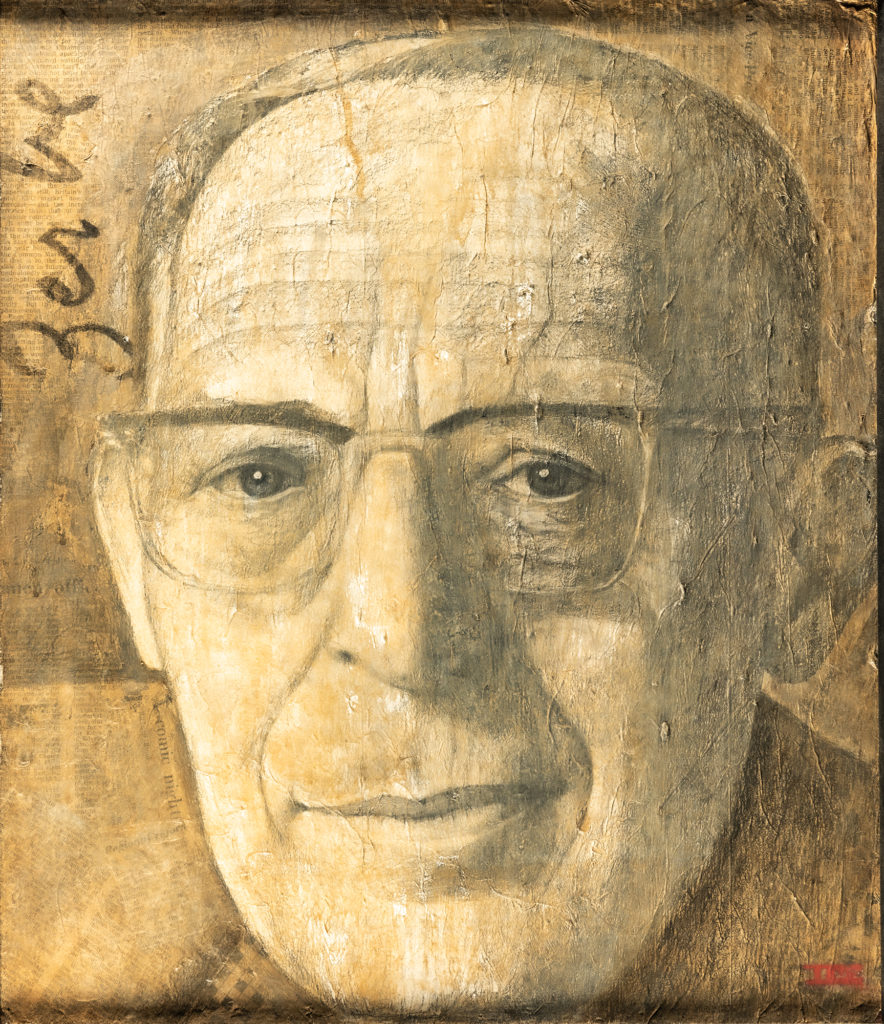 Portrait by Jack Ice
Click HERE to read letters written to Karl Zerbe for his retirement, provided by his daughter, Maria Zerbe Norton 
Most of the people who remember Karl Zerbe are aging, so we think it's important to capture their knowledge as well as reinvigorate public awareness of this historical figure who resided in Tallahassee for many years. There will be something for everyone; from those who already know and love Zerbe, people who are generally interested in art, history, nature, birds, and the humanities as well as those focused on civil rights and cultural conversions.
In-person and virtual exhibits featuring Karl Zerbe and other artists he inspired can be found at LeMoyne Arts, Council on Culture & Arts online gallery and Tallahassee International Artport Gallery, TCC Hurst Gallery, FAMU Foster-Tanner Fine Arts Gallery, and the Tallahassee Chamber of Commerce. This citywide Zelebration will inspire and strengthen our vibrant community in a fun and Covid-safe way.
Come and enjoy all that the Zerbe Zelebration has to offer, and enjoy tasting the German-inspired custom brew created by Proof Brewing Co., in honor of Karl Zerbe's German heritage. It will be served at the festival and at venues that carry Proof Beer.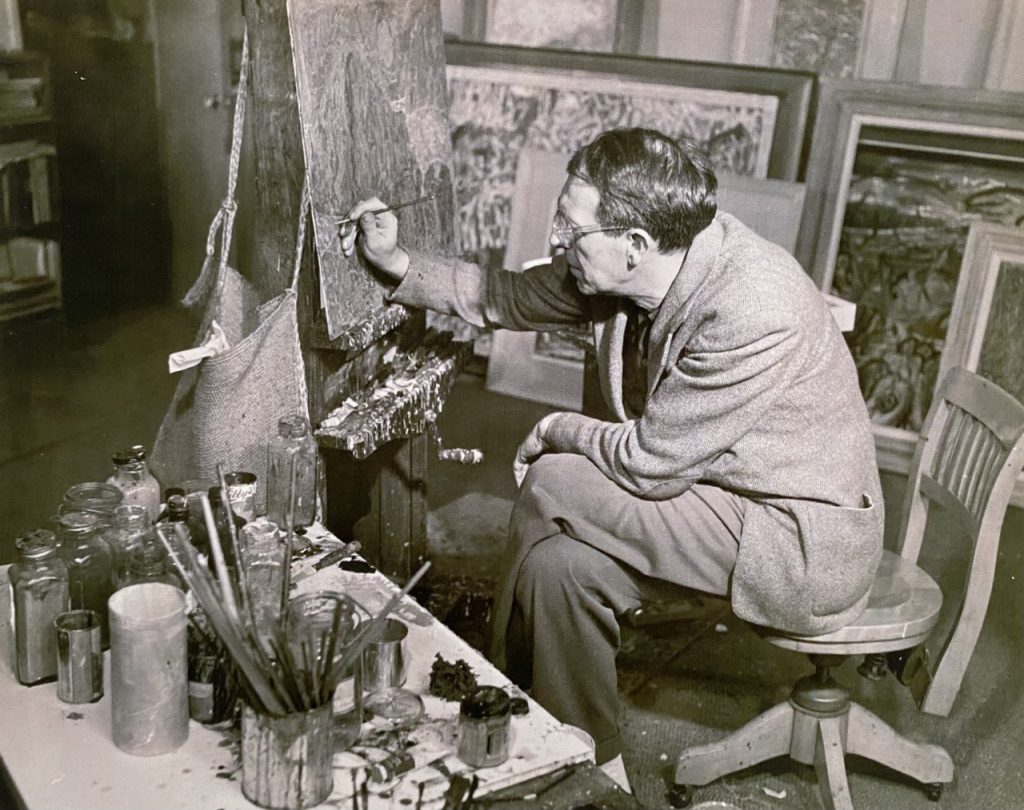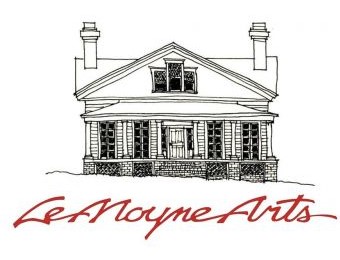 WHEN: April 8 – May 8, Tuesday-Saturday 11:00am – 6:00pm
Opening Reception:
Thursday, April 8, 5:00 – 7:30 PM & Saturday, April 10th, 11-12pm
​​​Free for LeMoyne Arts members, $5 for non-members.
WHERE: ​125 N. Gadsden Street Tallahassee, FL 32301​​
WHAT:
LeMoyne Arts has the largest permanent collection of Karl Zerbe artwork in the world. This exhibit will showcase pieces from the permanent collection, 8 never before seen pieces, and will have original serigraphs from the bird series for sale as well.
ZerbZ BirdZ: Lecture discussion about birding and Zerbe's love of bird with Todd Engstrom
Lecture discussion about Zerbe's life with Dr. 

Preston

 McLane, Director of the Florida State University Museum of Fine Arts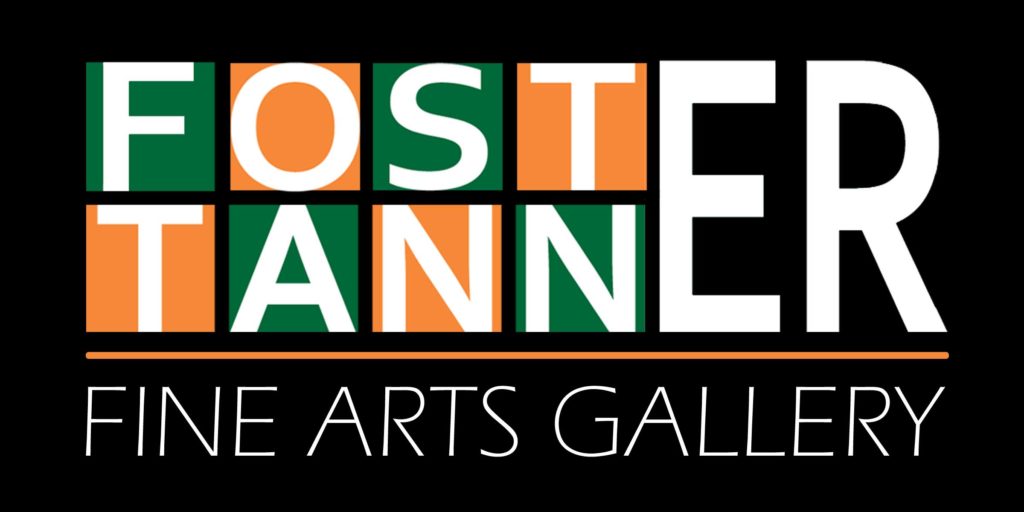 WHEN: April 9th – 18th, Thursdays and Fridays, 10am – 5pm and Saturdays, 12pm – 4pm
WHERE: Foster-Tanner Fine Arts Gallery (Lower-level gallery). Located on the campus of Florida A&M University at 1630 Pinder Street.
Parking: Metered parking is available on Wahnish Way between Osceola and Gamble streets.
WHAT: The presentation of the three Zerbe Civil Right works will be on view at the Foster-Tanner Fine Arts Gallery and a virtual workshop and conversation will occur on April 14th!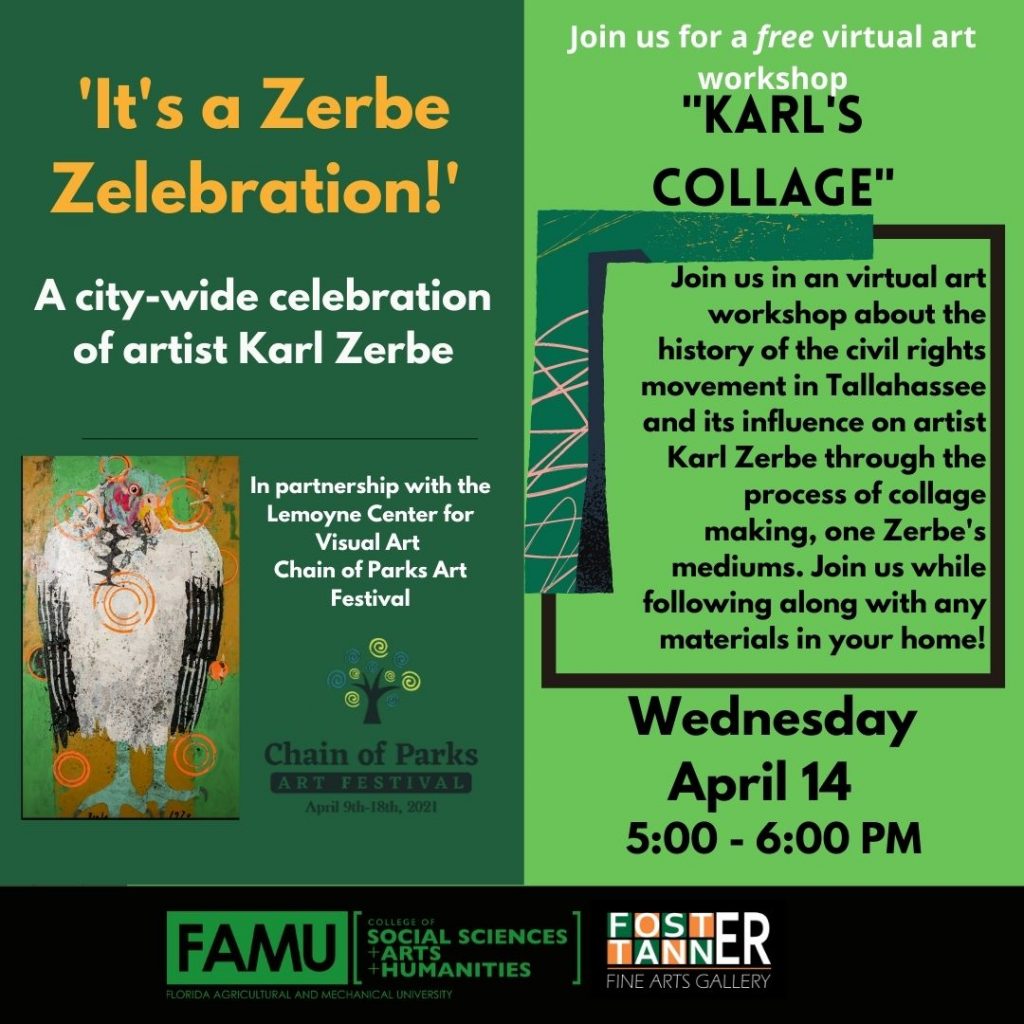 Join Zoom Meeting
https://famu.zoom.us/j/94226022431?pwd=aFV4WCs3M1k5SEJFSDJEazVKZ2dkQT09
Meeting ID: 942 2602 2431
Passcode: 654658

WHEN: Daily 8 am-11:30 pm, FREE and open to the public
WHERE: 3300 Capital Circle SW, Tallahassee International Airport (the first 30 minutes of parking is free)
WHAT: North Florida focused Karl Zerbe artwork & artwork by Linda Van Beck (a friend of Zerbe)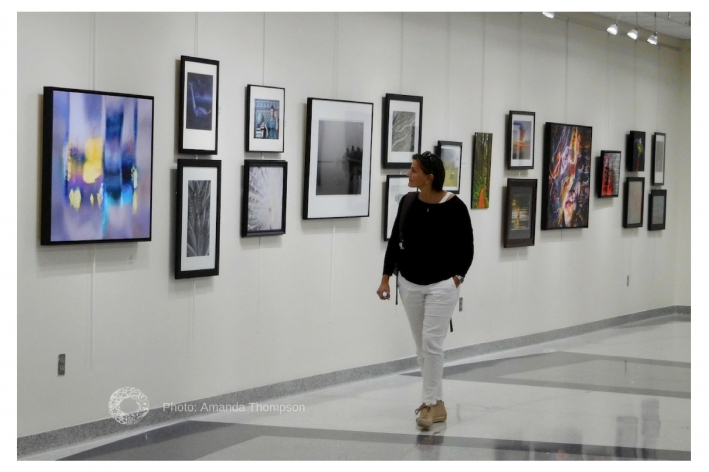 *To comply with current health and safety practices, all gallery goers must be masked while in the building and practice social distancing.

Get excited!! For the Zerbe Zelebration (April 9 – 18), the Chain of Parks Art Festival has collaborated with Proof Brewing Co. to create a custom German-style pilsner in honor of Karl Zerbe's German heritage. Here's a sneak peek of the Proof brewers hard at work in preparation for the Zelebration! The "Zerbe PilZner" will be a refreshing brew that will be available in April as a 6-pack at Proof Brewing and on tap in multiple locations around town including Il Lusso, Bella Bella, Four Points by Sheraton, Aloft, Double Tree, and Hyatt House.
If you're looking for a 6-pack, they will go for sale on our webstore April 9th, at 10am. Select "Curbside Pickup" at checkout to secure it. Curbside pickup on Friday is from 4-7pm, Saturday is 2-7pm and Sunday 2-7pm. There is an extremely limited amount available in 6-packs. Only about 20 cases total, get it will it's COLD! 
For those who are wanting to drink it on draft, Proof will have it on tap starting Friday. You can also enjoy it on draft at the Chain of Parks Art Festival, and at these wonderful partner sites: Bella Bella, Four Points by Sheraton, Aloft, Double Tree, and Hyatt House.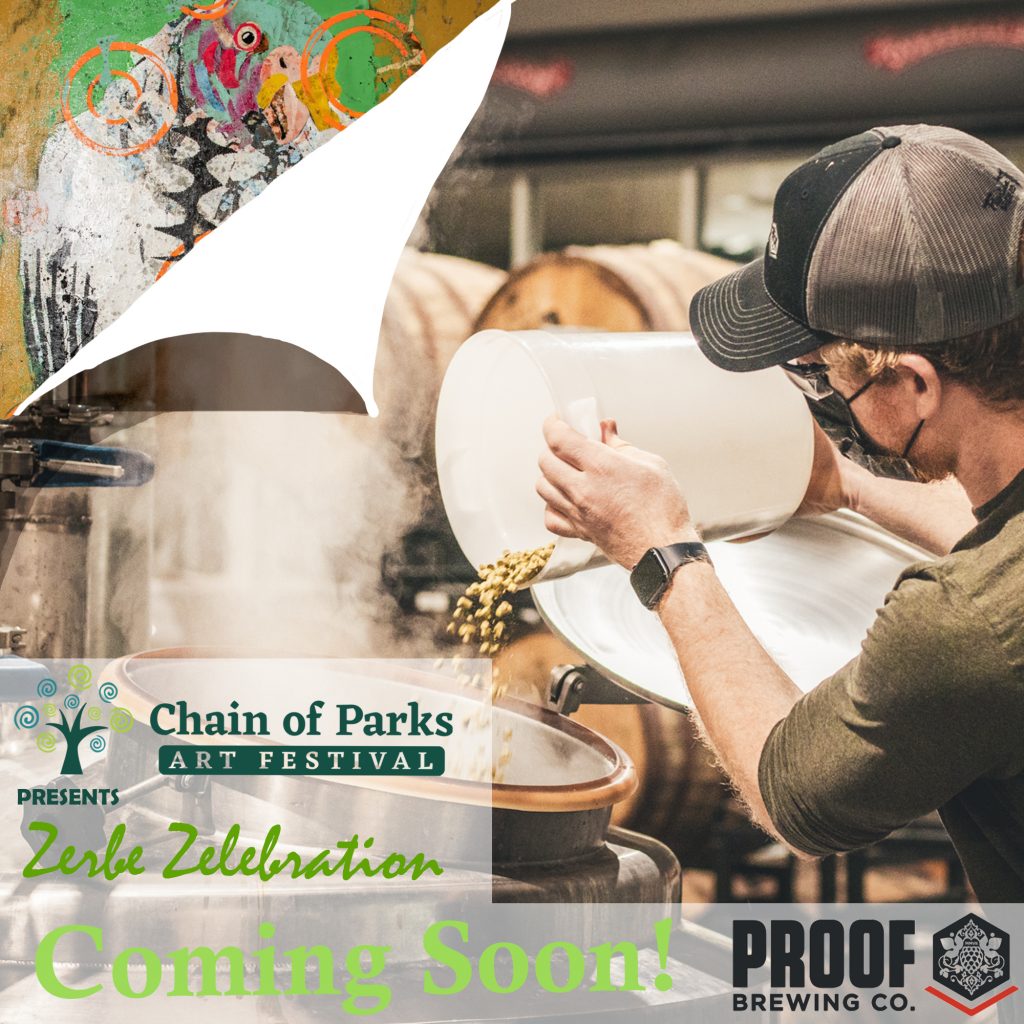 More info coming soon! 

WHEN: April 14 – 16, from 12:30 to 4:30 & April 17, from 10:30 until 1:30.
WHERE: TCC Fine Arts Hurst Gallery — Enter the main entrance of the Fine & Performing Arts Center. Parking instructions:  Approach TCC on Appleyard.  About halfway between Tenn. and Pensacola, there is a flashing yellow caution light. Turn into the campus and the faculty parking lot is ahead on your left.  If you come on a weekday, press 002 and tell the operator that you are going to the gallery in FPAC. The gate will open for you. The gallery is in the building straight ahead. If you come on Saturday, the lot will be open.
WHAT: 1 large Zerbe "Philodendron." + written information about the piece. Additionally, they will provide a free take-home kit for children to make a collage.  The kit will include instructions, 9 x 12 piece of foam core board, white glue, and a small paint set.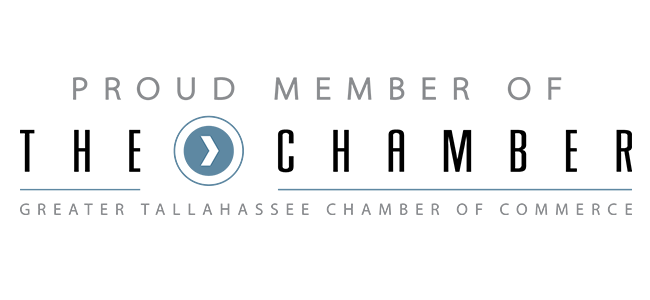 Tallahassee Chamber of Commerce:
WHEN: April 9 – 18th, all hours
WHERE/ WHAT: The Chamber has a large collection of Zerbe's on loan from LeMoyne Arts. They are in the photo gallery as well as being loaned to COCA's Artport gallery.
VIDEOS:
Click HERE to watch a documentary about Karl Zerbe: Expressions of Life 
Interviews: 
Linda Van Beck:
Charles & Cynthia Tunnicliff:
Maria Zerbe Norton (short version):
Robert (Bob) Smith:
Maria Zerbe Norton (full interview):
Speaker series at LeMoyne Arts!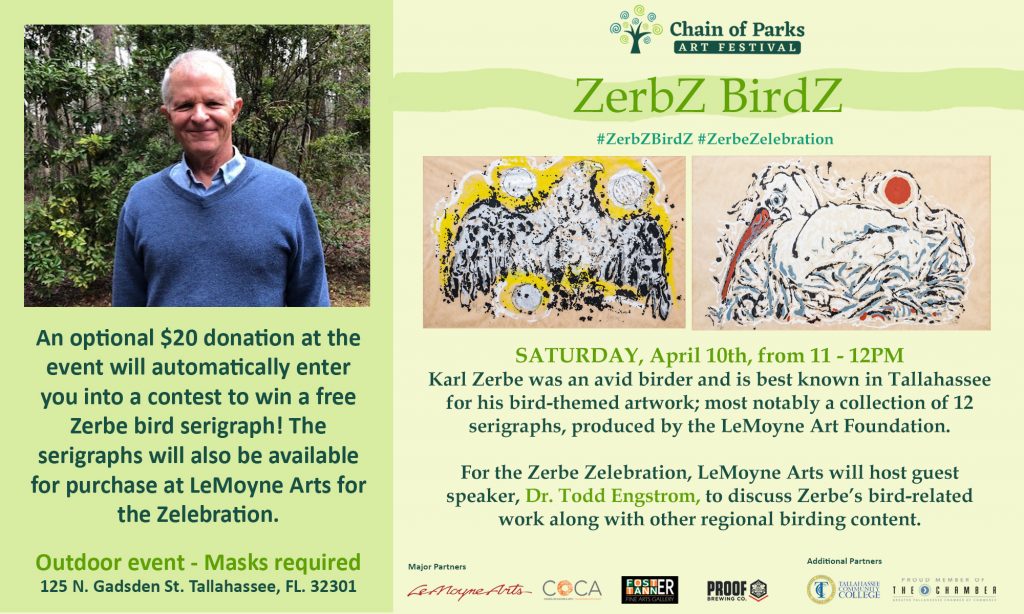 *No ticket required Zerbz Birdz*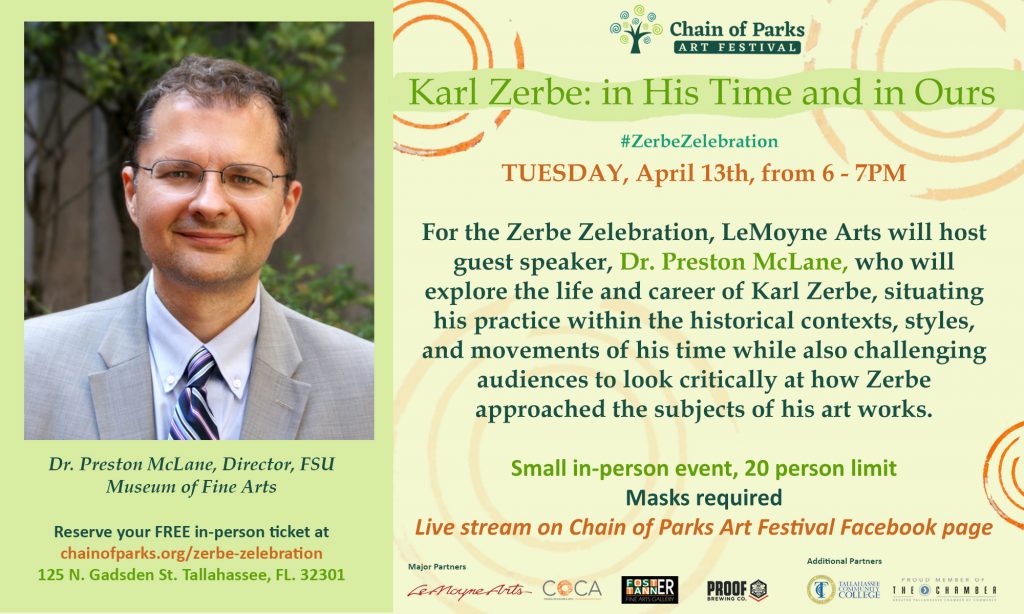 Since this is an indoor event, help us by clicking  HERE to reserve your free ticket. Please email Chainofparks@lemoyne.org if you need to cancel.
To join via Zoom: 
https://us02web.zoom.us/j/88329349907?pwd=MmJRK2N6QVZEVXphSzJ3V0ZuQXdYdz09
Meeting ID: 883 2934 9907
Passcode: Zerbe
More to Come!
Follow us on Facebook & Instagram to participate in the fun below!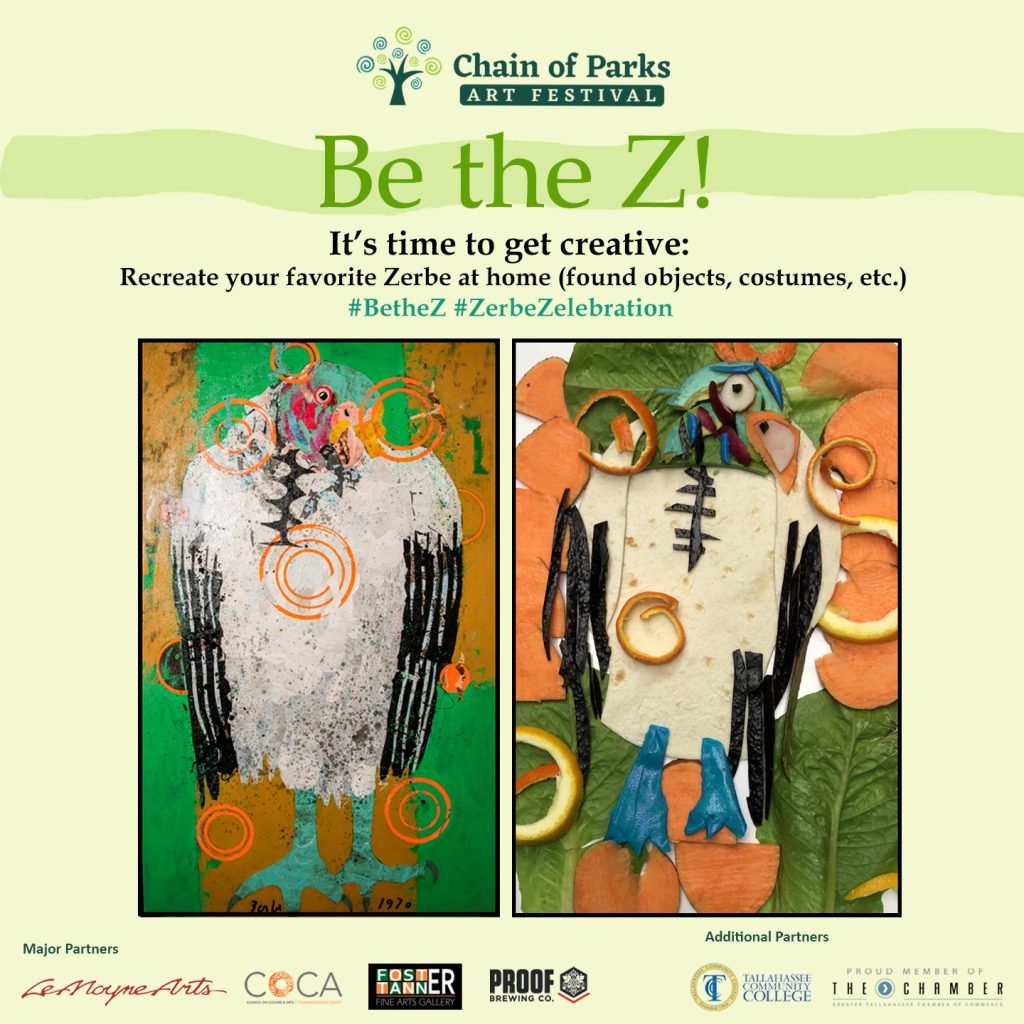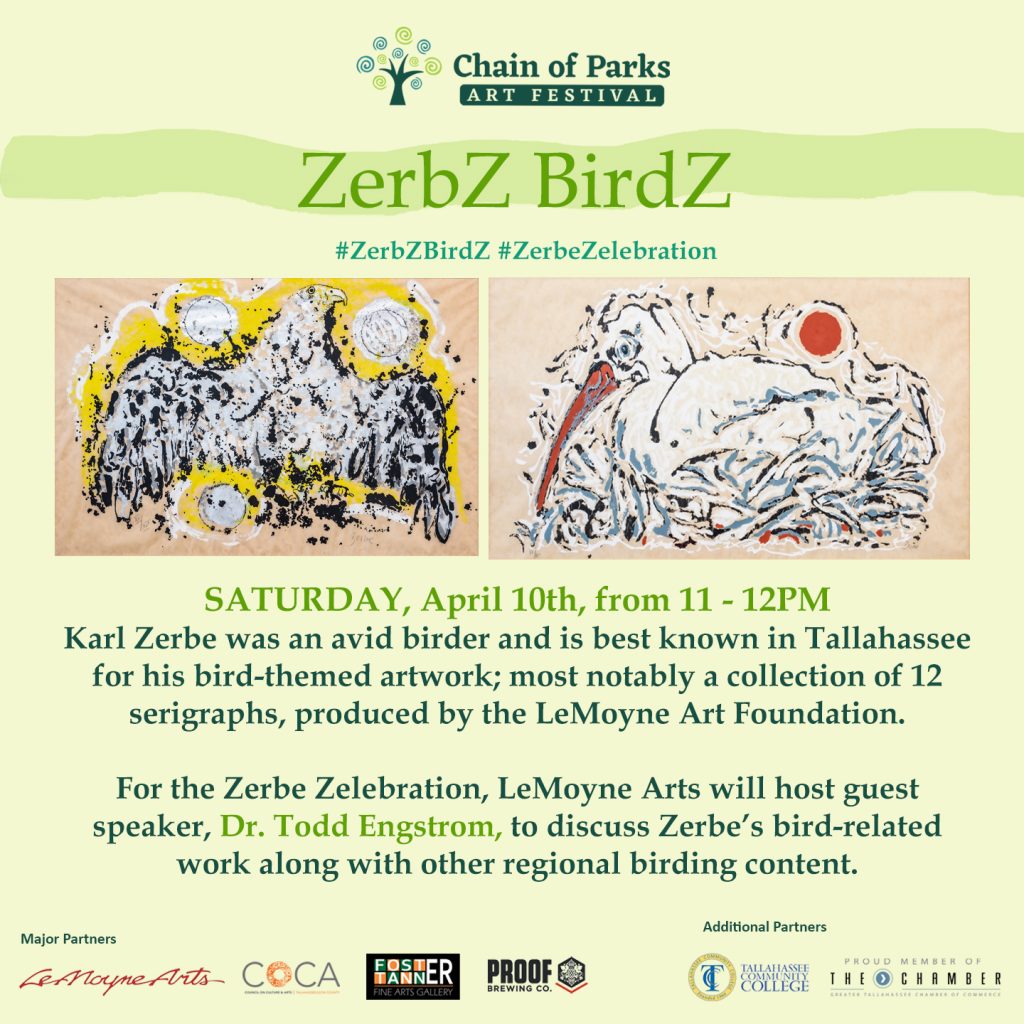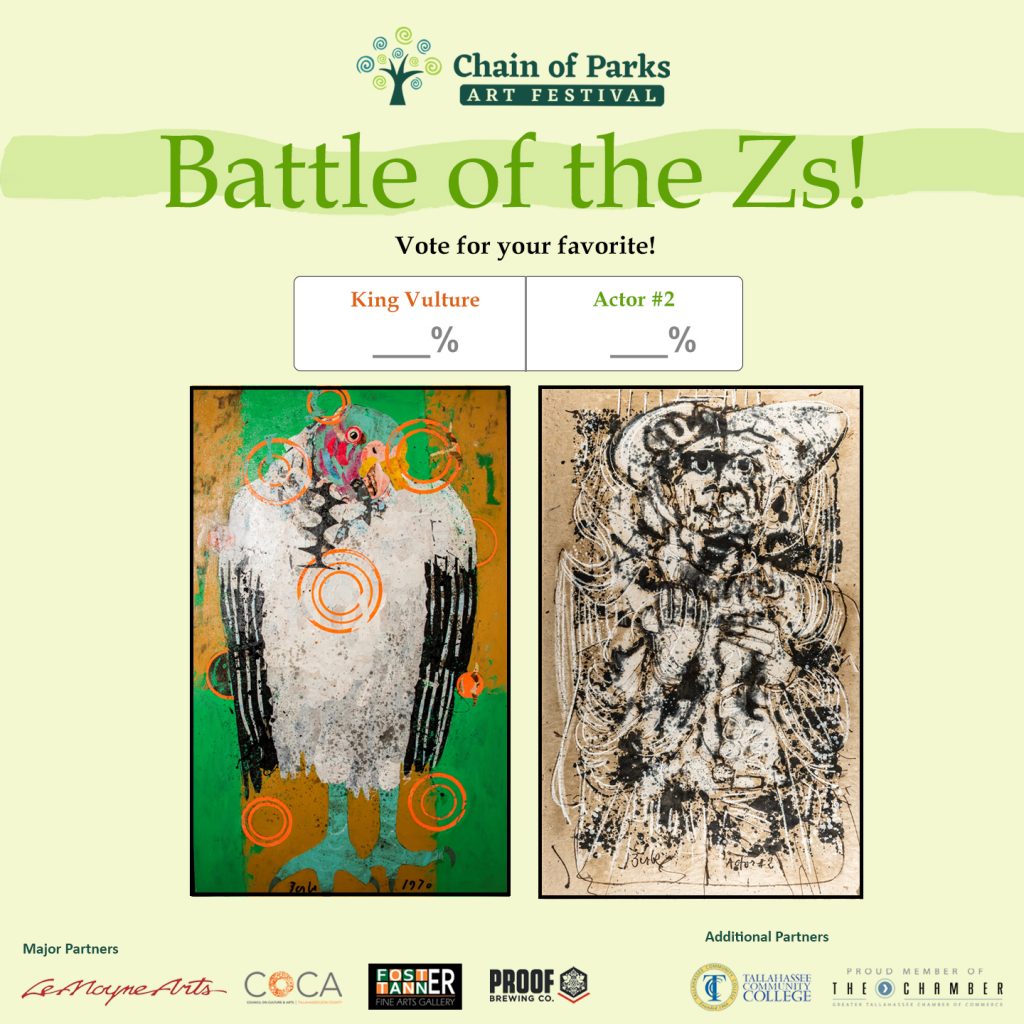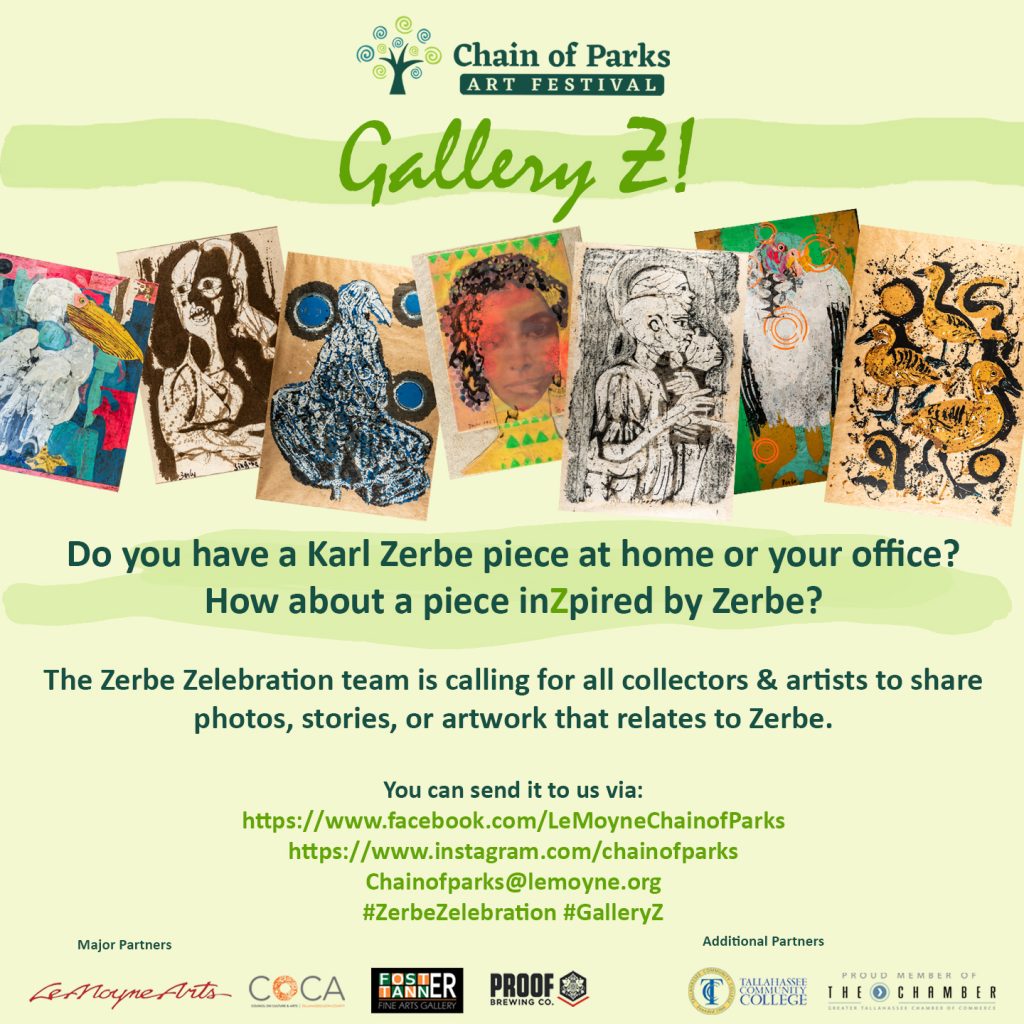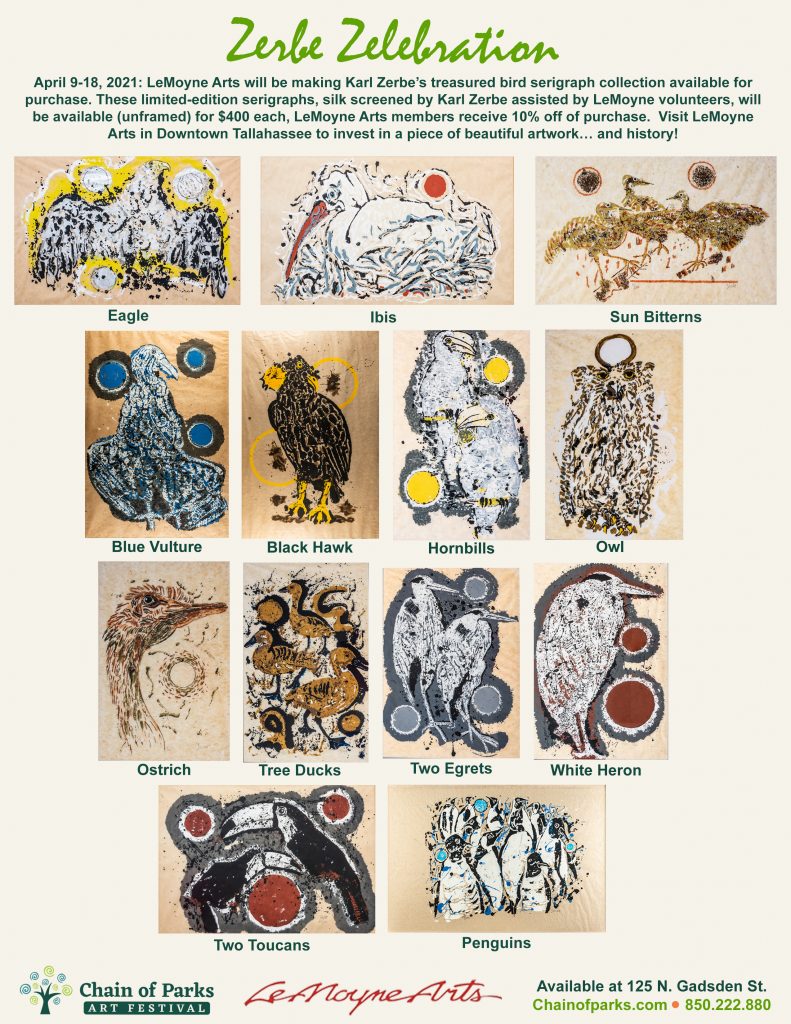 A special THANK YOU to Bob O'Lary and Katie Clark for photographing the LeMoyne Arts Zerbe pieces in the Permanent Collection. 
I just wanted to let everyone know what fun I think your website is! I am really having a great time with it. LeMoyne is reaching out to the community and making art WAY fun. Congratulations to everyone.  ~Maria Zerbe Norton