About
LeMoyne's Chain of Parks Art Festival is honored to be a part of Tallahassee's cultural identity for 23 years!
Learn about the 24th Annual Chain of Parks Art Festival:
SAVE THE DATE! The Festival will be on April 20 & 21, 2024. Follow us on social media for the most up-to-date information!
Ranked one of the top Fine Art Shows in the nation, LeMoyne's Chain of Parks Art Festival is North Florida's premiere outdoor fine art festival. The festival has expanded, offering new and exciting programs to bring the community unique fine art experiences.
"The Chain of Parks Art Festival brings some of the nation's top fine artists to the Capital City as a way to not only expand on the opportunity for regional art collectors but also introduce fine arts to those who may not have experienced it," said Festival Chair Kelly Dozier. "The Festival committee and volunteers work hard to make this a fun and successful event for all, including the artists, and to be recognized among the top festivals in this way means the world to us."
2024 Opening Nights will represent the visual arts by featuring Dean Mitchell, LeMoyne's Chain of Parks Art Festival's presenting artist, who will discuss "Navigating the Art World: Building Success Against the Odds"
The highly anticipated festival weekend with Artists in the Park will be located along the majestic oak-lined Park Avenue, just east of Monroe Street in beautiful downtown Tallahassee, the two-day festival is free and open to the public.
Come see the art and stay to enjoy a wide variety of live entertainment on the main stage, local food trucks, vendors, professional chalk artists, and libations served enthusiastically at the Festival Bar.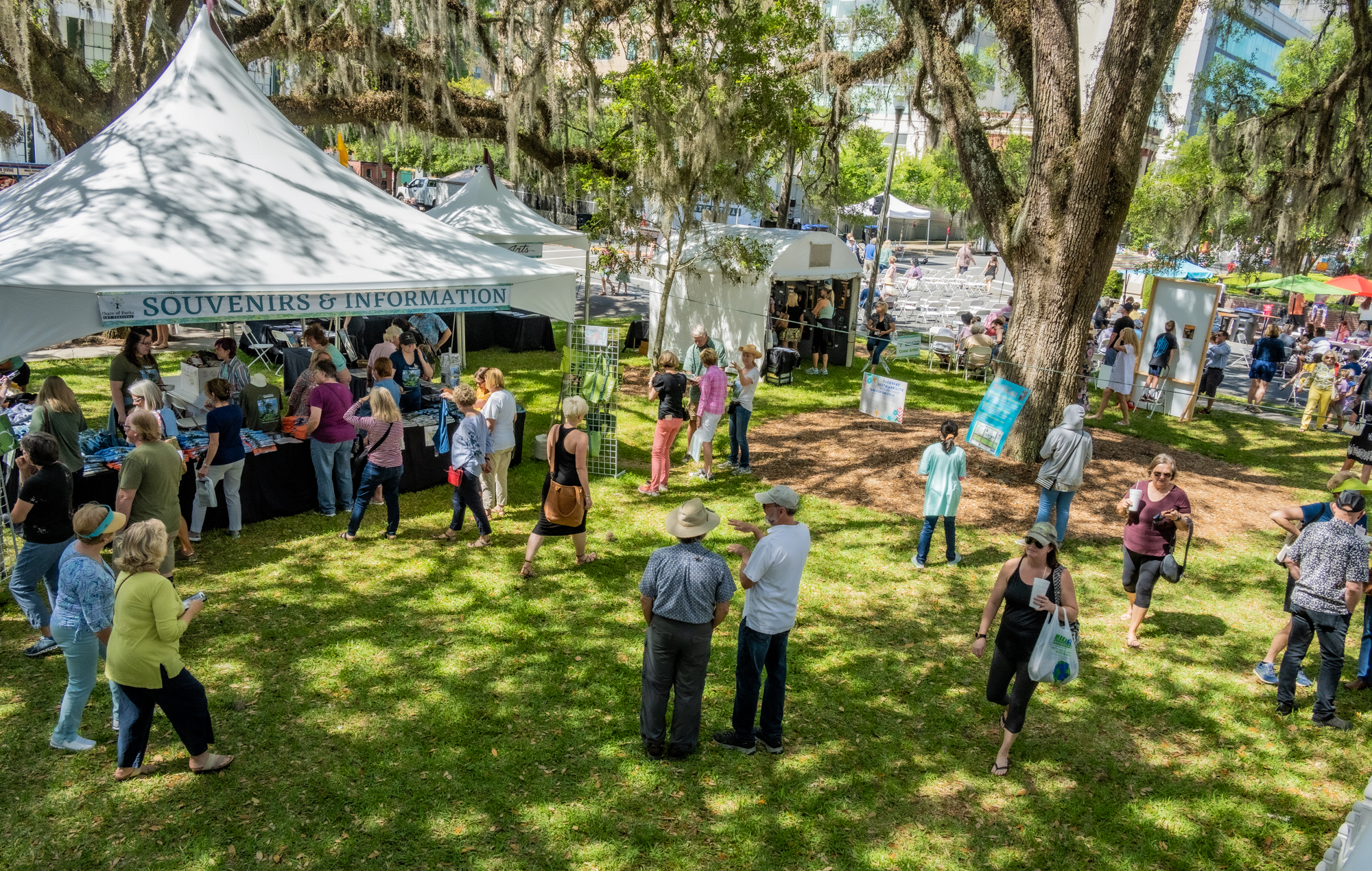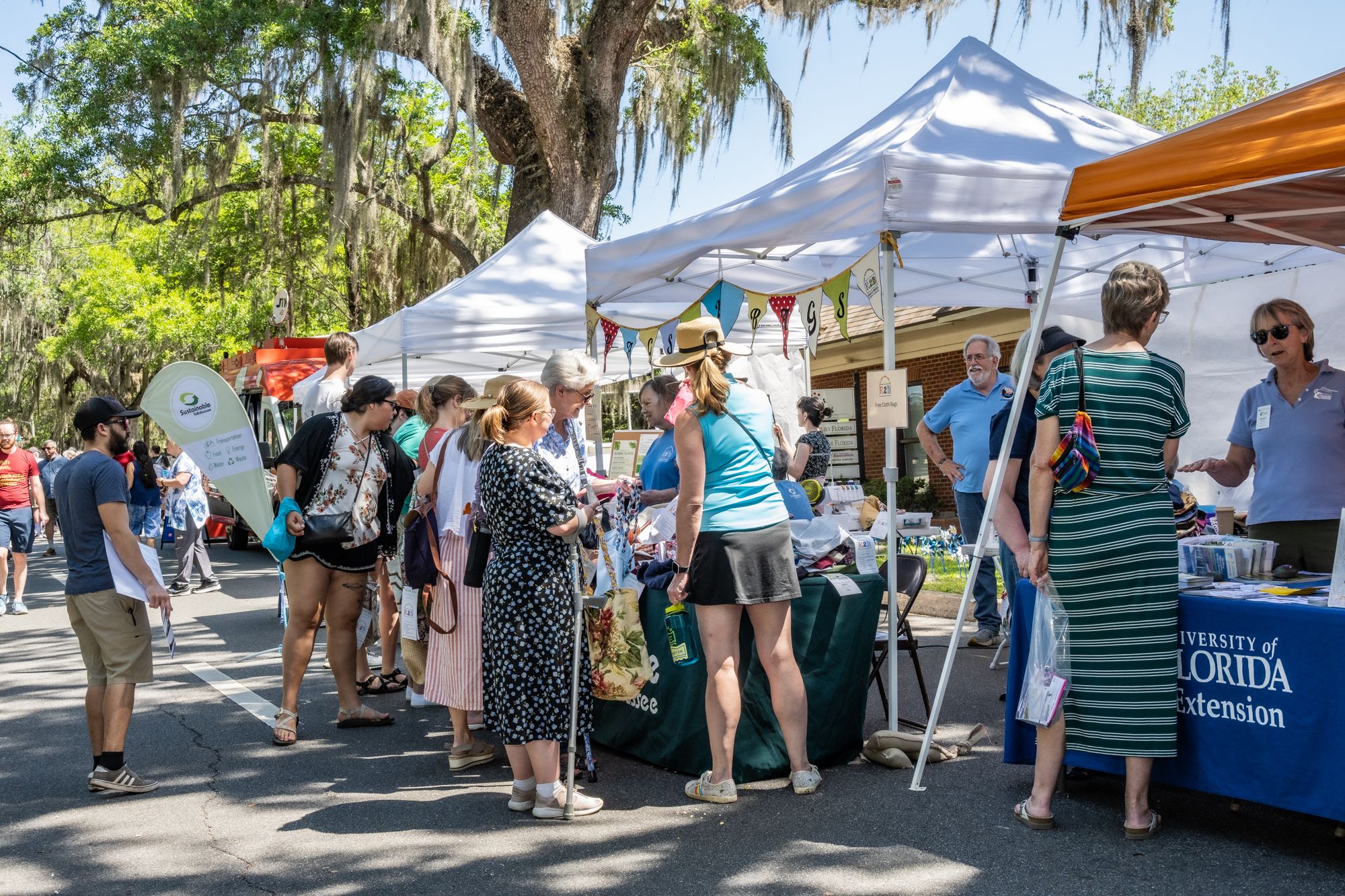 2023 Festival Report:
LeMoyne's Chain of Parks Art Festival in Tallahassee has been ranked in the Top 100 Fine Art Festivals by Sunshine Artist Magazine for 11 years running!
The 23rd Annual Chain of Parks Art Festival was held in April, drawing an estimated 30-35,000 attendees to the Bloxham, Lewis and Randolph "Chain of Parks" in Downtown Tallahassee.
According to Leon County Division of Tourism/Visit Tallahassee's event research conducted by Downs & St. Germain Research, the economic impact of the event, Festival attendees who live outside of Leon County had an impact of close to $1.3 million dollars on the local community, meaning increased spending at local businesses resulting from tourism dollars. Due to this incredible turnout, the estimated collective sales for the 138 artists were $612,908, supporting the careers and futures of fine artists.
According to Leon County Division of Tourism/Visit Tallahassee, "Lemoyne's Chain of Parks Art Festival turns the city's iconic downtown Chain of Parks into a natural art gallery with one-of-a-kind works of art from all over the United States."
"With Florida having more festivals than any other state, being the highest-ranked Fine Art and Design Festival in Florida is a significant achievement," said Kerri L. Post, Executive Director of the Leon County Division of Tourism/Visit Tallahassee. "We are proud to see our community's Chain of Parks Art Festival at the top of the list and recognized for the great experience it provides to all."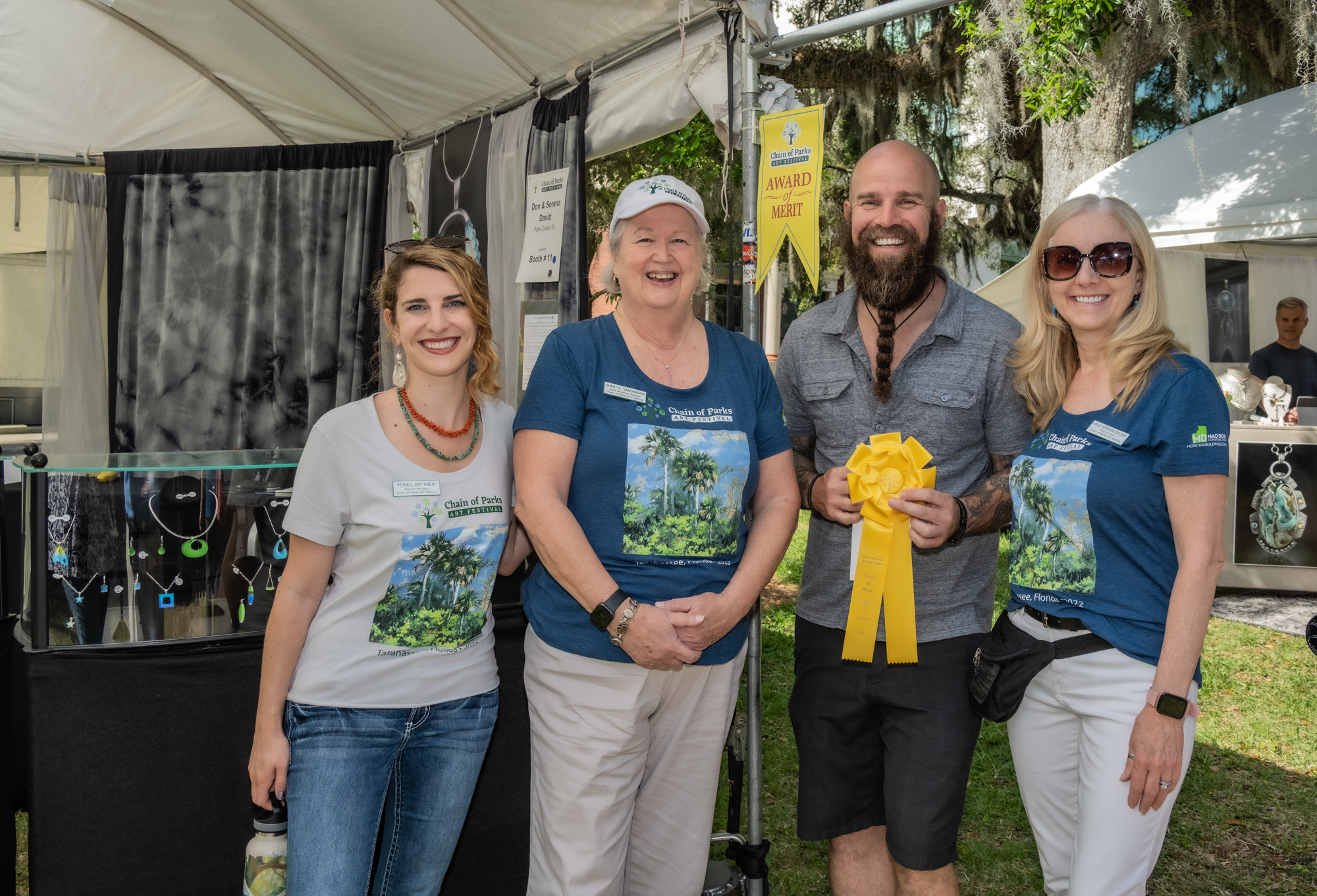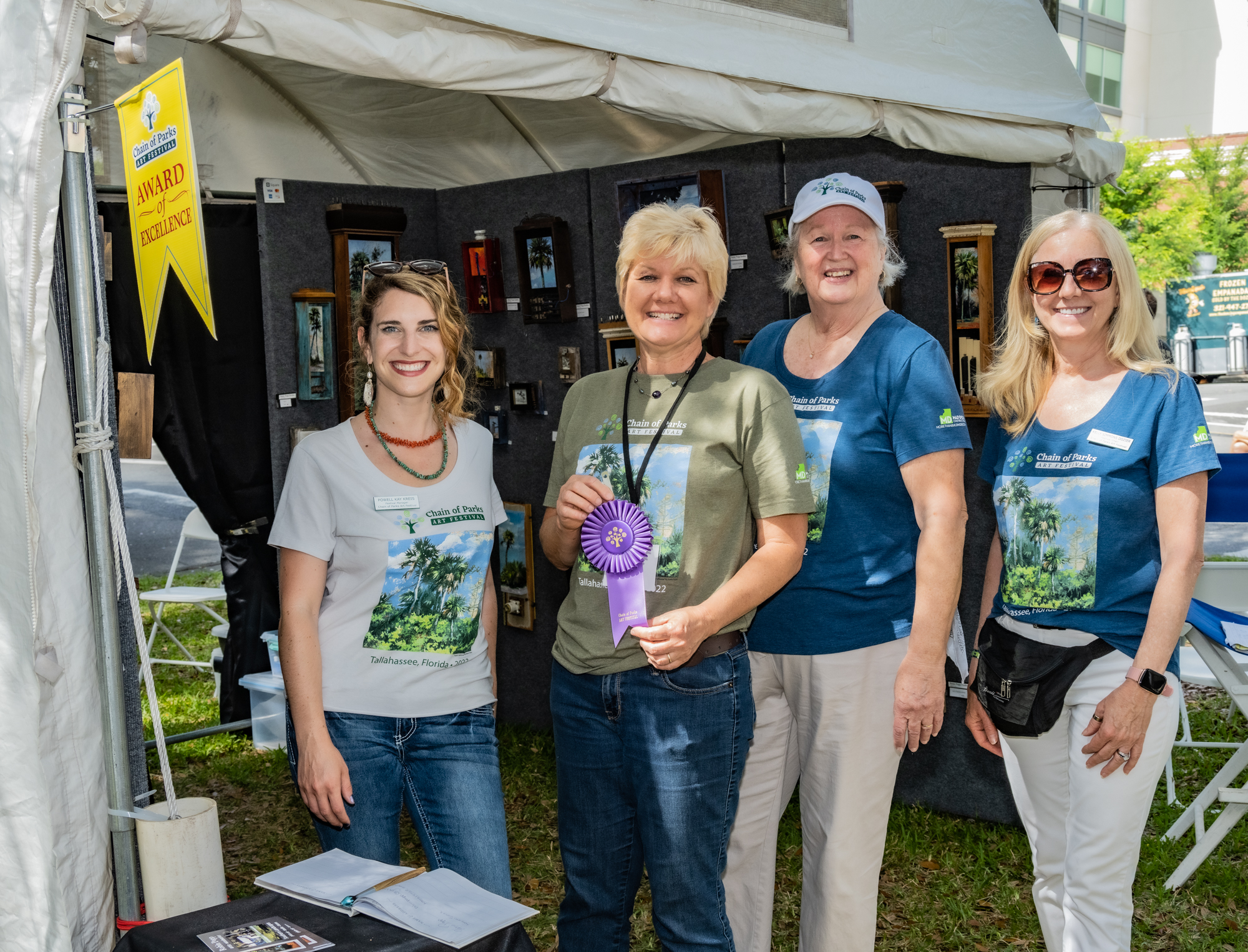 The Art:
View and purchase one-of-a-kind works from 150 fine artists from all over the US displaying original fine works of art with a fresh and diverse array of 2-D and 3-D mixed media, ceramics, drawing & graphics, fiber, glass, jewelry, painting, sculpture, and computer-generated art. Artists compete for awards in each category by our expert judges.
Professional chalk artists will also be creating large-scale pieces throughout the festival to create interactive (selfie-worthy) works of art.
2024 Folk Art New Addition:
LeMoyne Arts, in partnership with the Riley House Museum, will host a special exhibit celebrating local folk artists and their contributions to the visual arts experience in our community. This exhibit will take place in April, providing an opportunity for the Chain of Parks Art Festival to showcase folk artists from our region and beyond during the festival weekend. The festival is introducing this new special category and section focused on the traditions of Folk Art and Fine Craft. While always featuring fine art, the festival celebrates all of the arts including music, dance, culinary art, street art, and now, Folk Art! Festival attendees will enjoy Folk Art and Fine Craft along the festival's Tunnicliff Lane leading to the exhibit at the LeMoyne Arts Gallery.
Understanding Fine Art vs. Craft: 
Art is a form of work that is the expression of emotions. Executed from innate talent and passion. Art emotionally moves its patrons and evokes a feeling within each viewer. 
Craft is a form of work that results in a tangible output, often repeatable over and over. A fine craft can be learned from considerable practice and developed into a world-class form. Patrons are inspired by the skill to create the piece rather than a reaction to the subject matter. 
Understanding Folk Art:
"Folk Art" is defined as a decorative or practical piece of artwork that showcases traditional techniques from a specific culture or region. Folk Art is usually unique to the people of a specific culture and is viewed as an expression of society. Folk art is steeped in grassroots history and often distinguished from academic, commercial, and Western "Fine Art". Folk Art is frequently demonstrated through fine craftmanship, utilitarian and ornamental media, color, and texture; showcasing artistic expression from a non-classically trained artist.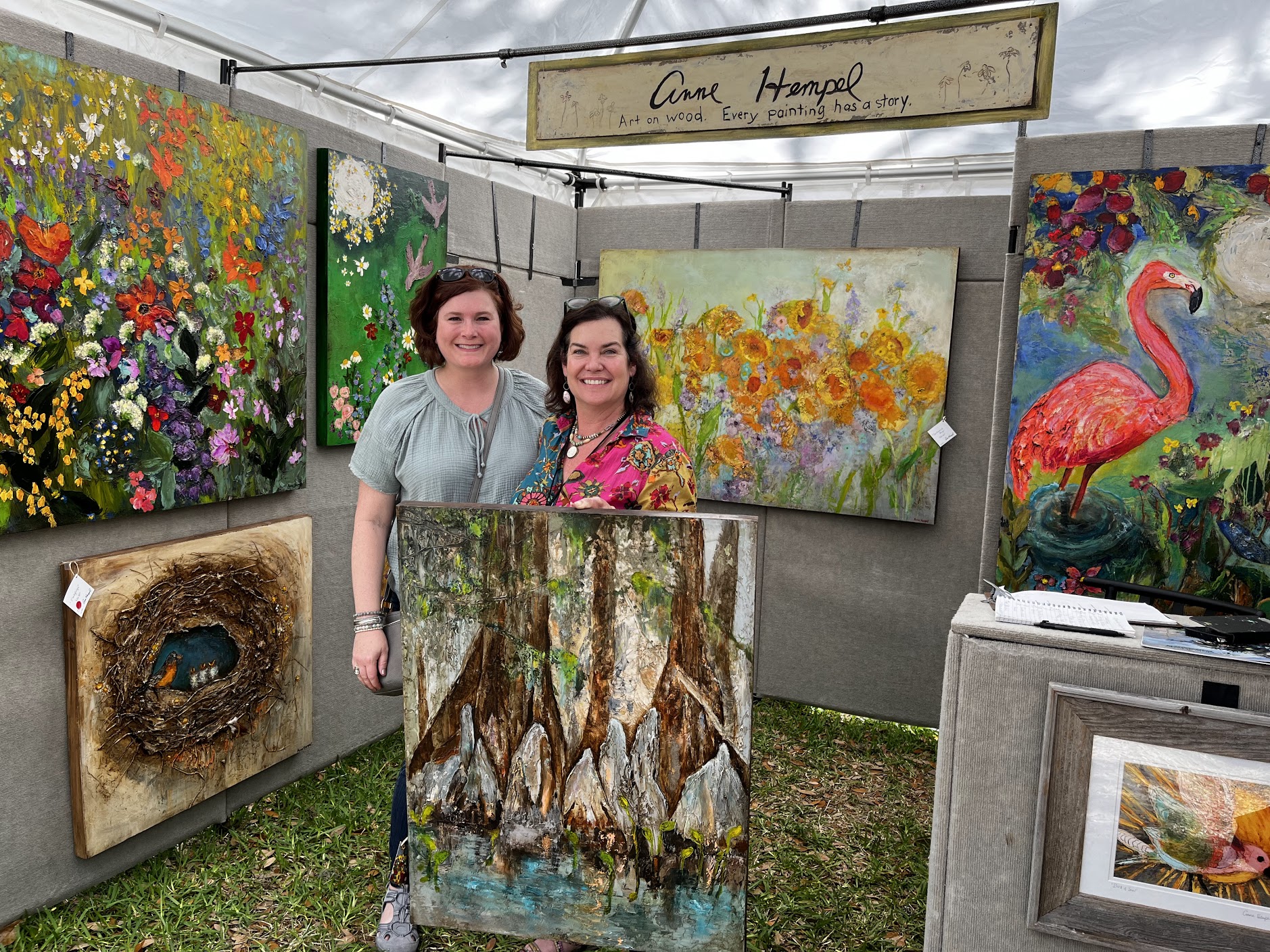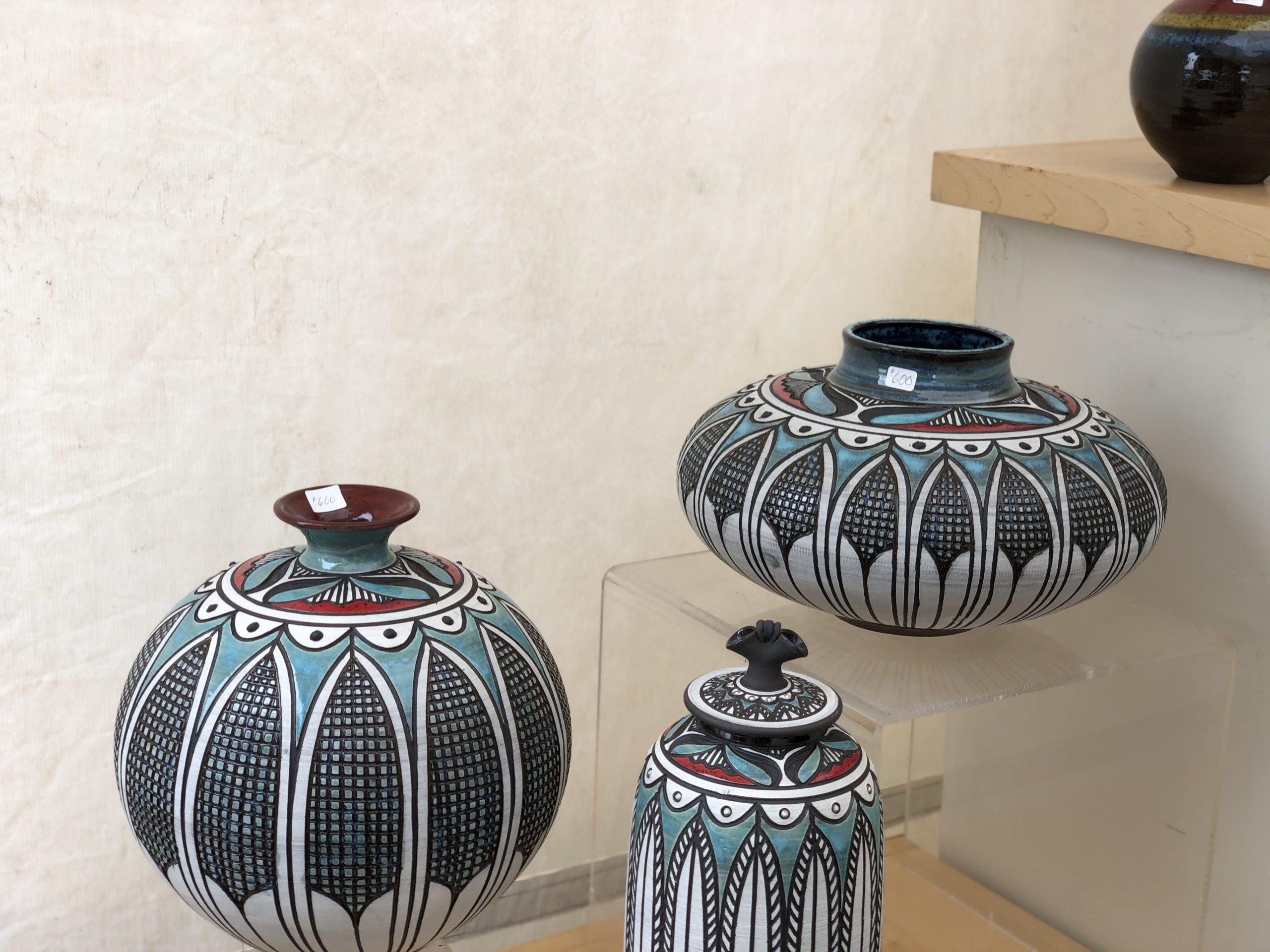 Souvenirs:
Click HERE to visit our gift shop with collectible souvenirs!
These items can be seen at LeMoyne Arts in our Gallery Shop Tuesday – Saturday from 11am – 6pm. 125 N. Gadsden St. Tallahassee, FL 32301
The Children's Park:
Participate in the Children's Park, which is a highly interactive part of the festival that provides opportunities for community connections with festival visitors. The purpose of this area is to offer artistic experiences for children and promote organizations that support the arts and heritage in our community. We want to get children excited about the arts and give their families an opportunity to learn about what our community has to offer.
The Children's Park incorporates Pop-Up Studios, Interactive Art Vendors, Heritage Booths, the historical Jacques Le Moyne Encampment, Pop-up Entertainers,  fun snack foods, and more!
NEW! Community Corner: 
The Community Corner is a new adjustment this year, shifting our Community Partners, Brand Ambassadors, and Sponsor Booths to be at the festival entrance on our Reid Gunn Lane instead of what we used to call "The Village". This area is primarily for Non-profits and local businesses.
Entertainment:
Our Main Stage is located in the Center Court on Calhoun and features a variety of local bands and aspiring singer/songwriters along with crowd-pleasing local performing arts groups. Pop-up performances can be seen in The Children's Park and Chalk Art Oasis to keep everyone entertained all weekend.
Line up = will be announced this spring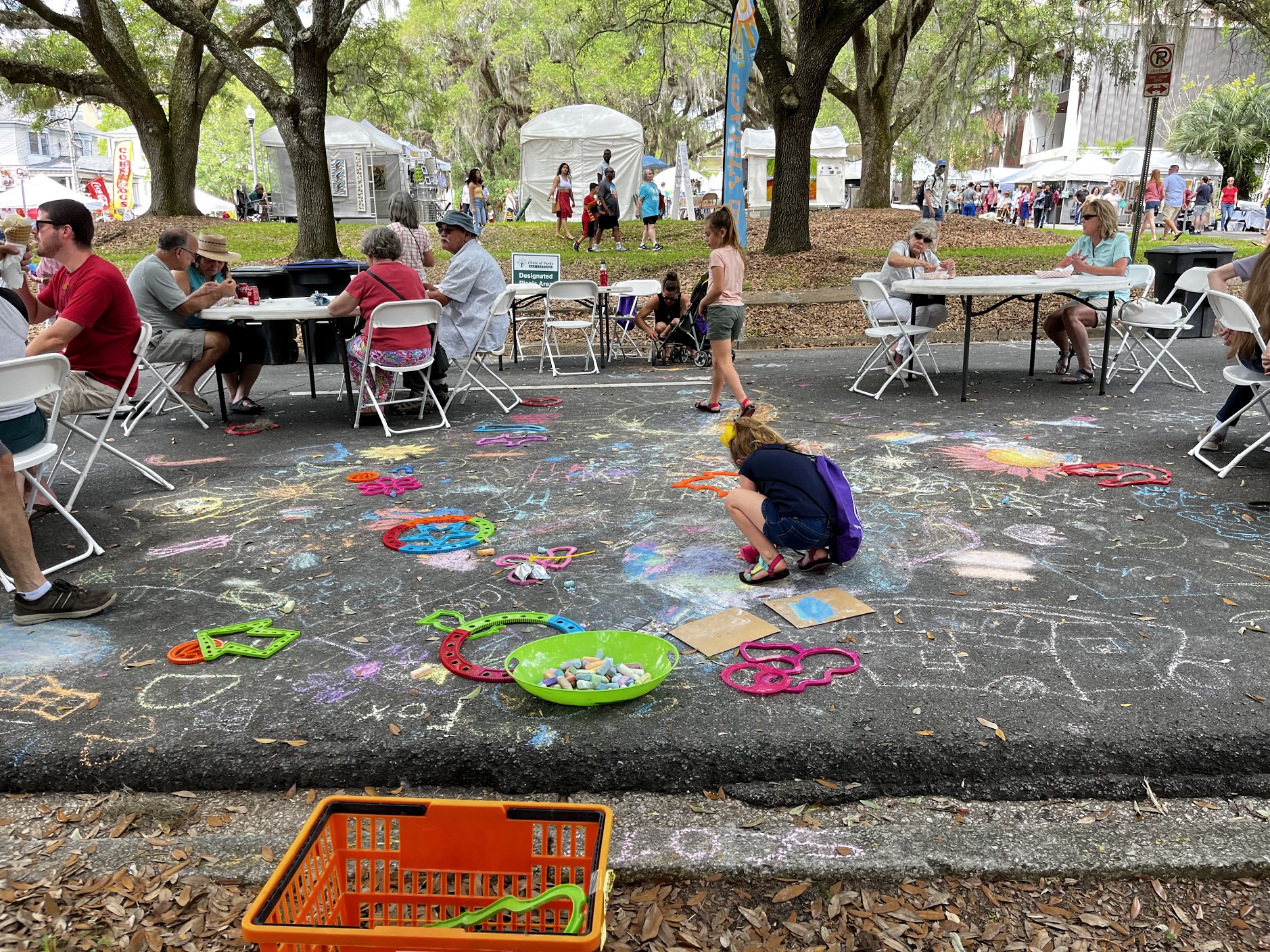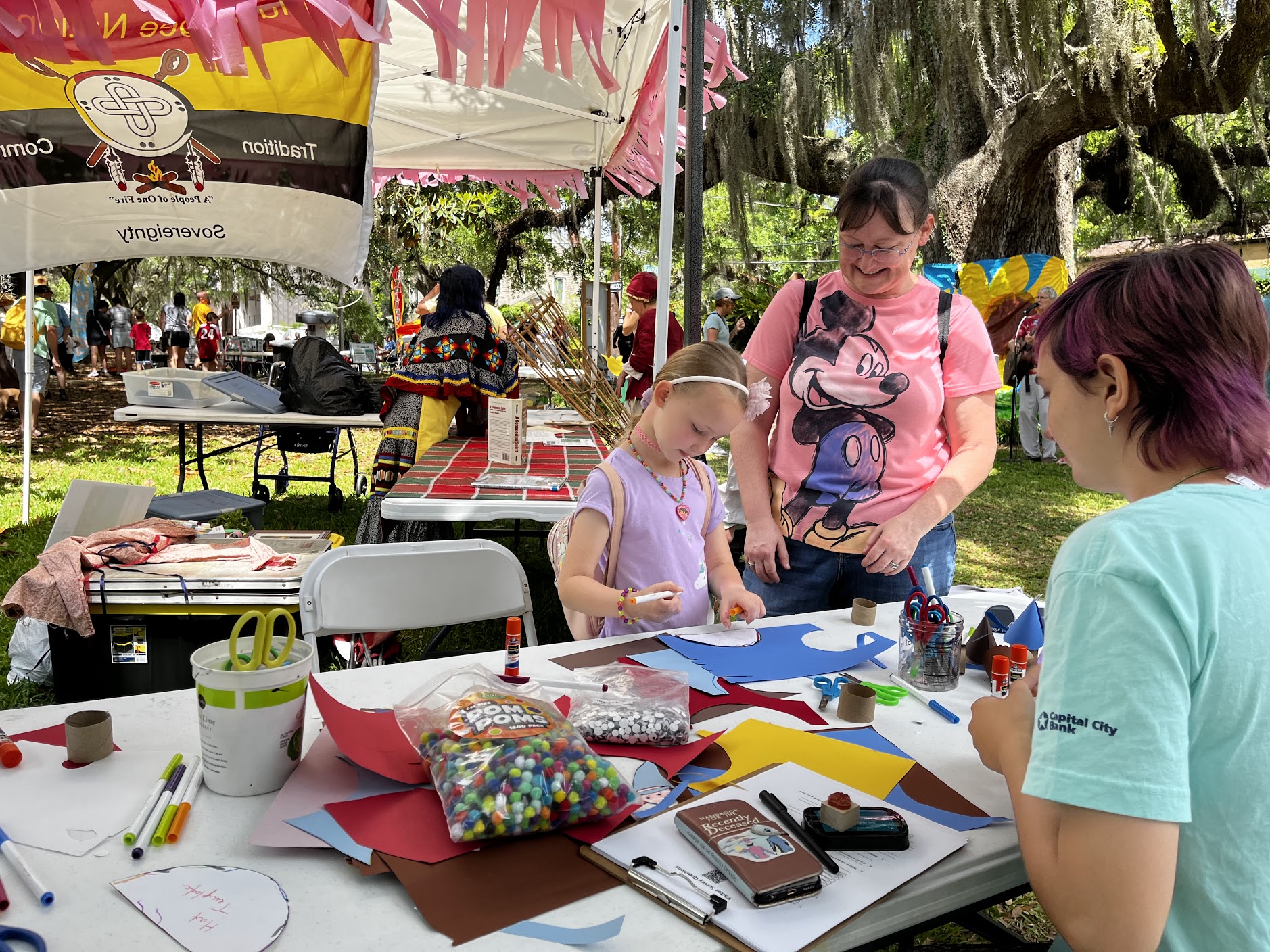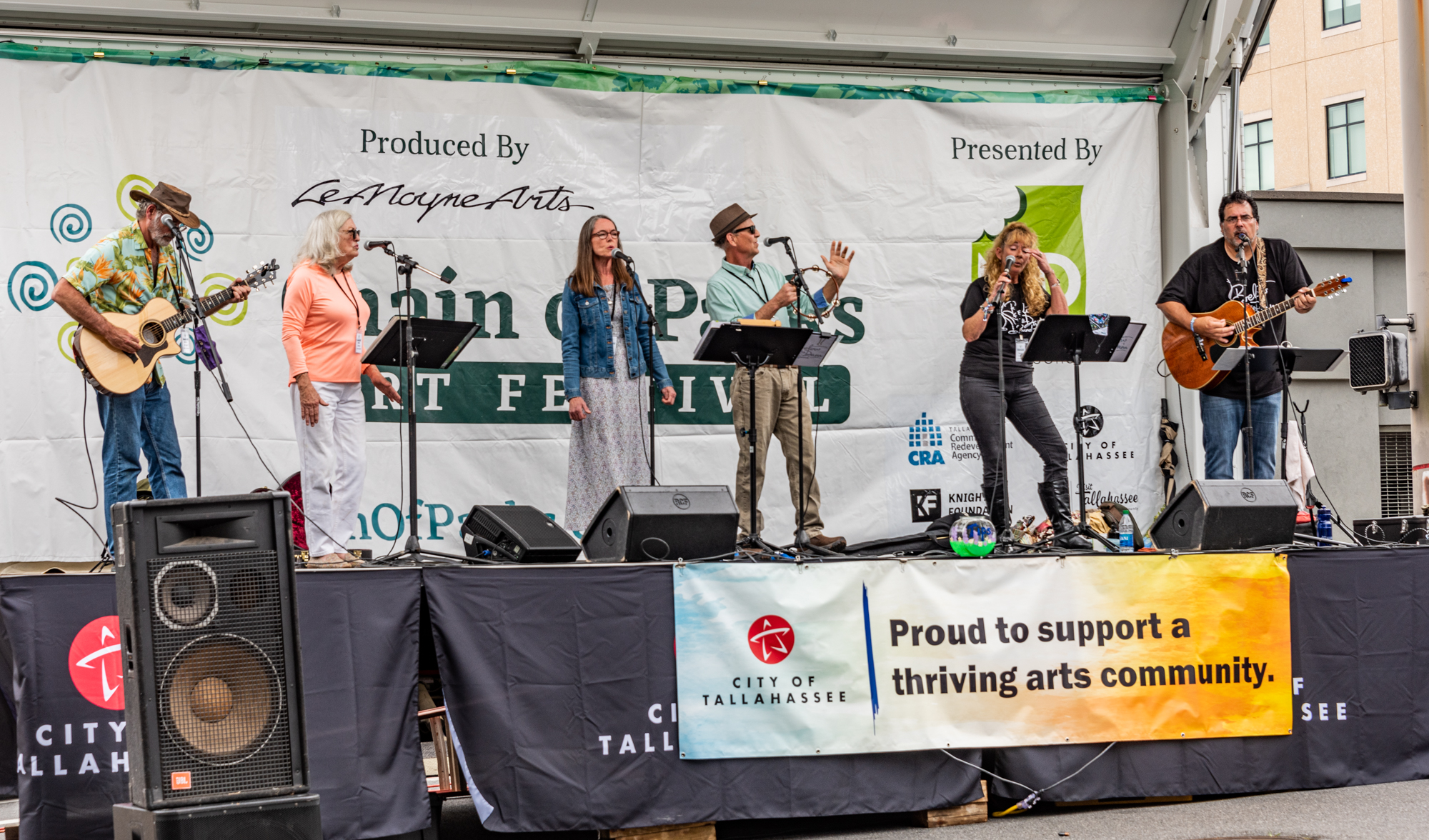 "The entire Festival team is thrilled to be planning for the event to return to its full offerings and more in 2022," said Kelly Dozier, Chain of Parks Art Festival Chair and Sponsor Chair. "We'll be bringing back children's programs and activities and are looking forward to more live entertainment all day long. It will be a weekend of old favorites plus new aspects to enjoy, bringing together our community's fine art fans and cultivating new art lovers."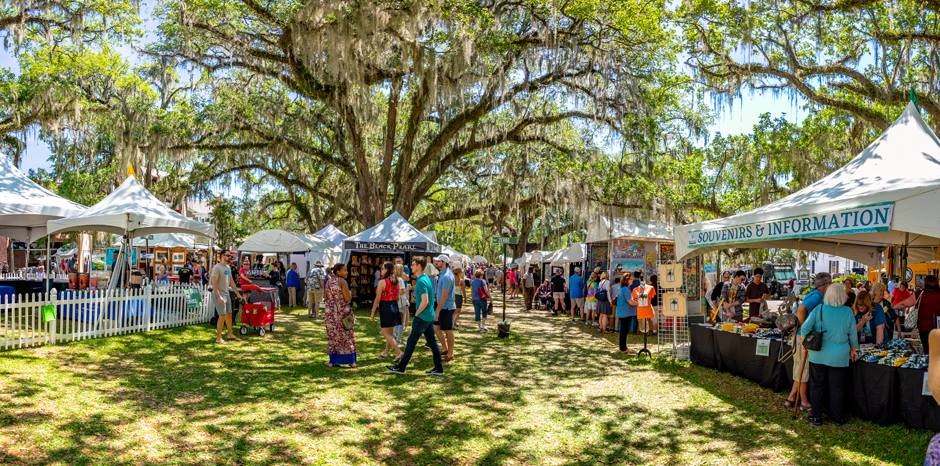 "One of the coolest events in Tallahassee. Wonderful art. Engaging artists. Tunes, too."
– Patrick Yack