Birdhouse Sculptures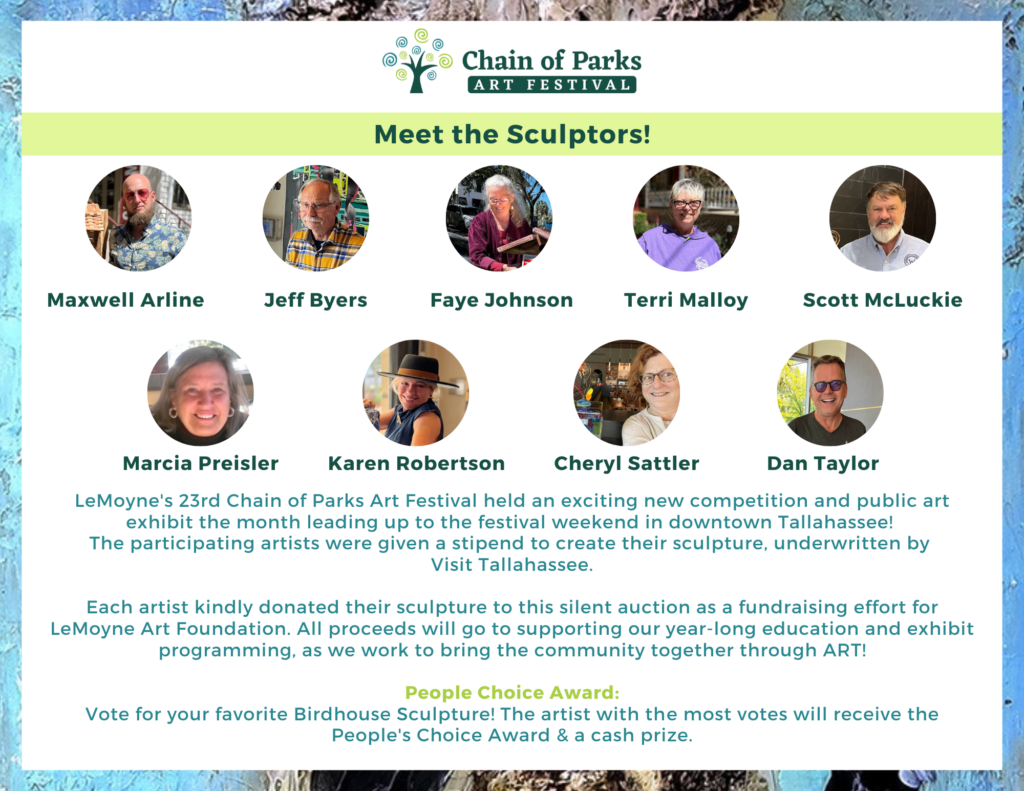 People Choice Award voting will close at 2PM on SUNDAY.
Silent Auction Bidding will close at 3PM on SUNDAY. 
Maxwell Arline is one of the fabulous local artists who created a Birdhouse Sculpture for our downtown Pop-up Exhibit and Silent Auction! "Maxie" was raised in Tallahassee and never left due to his love of its many natural beauties. He studied history at FSU and nursing at TCC. A former teacher, he is always passionately sharing his knowledge with anyone who will listen (add winking emoji). He is now bravely stepping out and making a name for himself as a cabinet maker and woodworker. He loves to manipulate the natural world as his medium, his favorite being the curvaceous shapes made by the wood of Florida's native junipers and pines. Maxie utilized wood weaving in combination with square panels, and raw edge strips to make the tail, integrated with a cedar branch pole. He used juniper wood to keep bugs away and designed it to be a special home for the local titmouse.
Faye Johnson (a.k.a Talking Cat Pottery), is a graduate of the University of South Alabama and the University of Texas in Austin. After retiring from a long career in the field of Education and Program Administration she embarked on the pursuit of creativity through the medium of clay. Her studies included working with noted Apalachicola artist Leslie Wallace-Coon, as well as several workshops in Asheville, NC. She has been featured in several galleries including Apalachicola, Port St. Joe, Seaside, Fairhope, and Mobile. She now has work in LeMoyne's Gallery Shop!
"I love the feel of the clay on my hands, and the surprise of opening the kiln to see exactly what's inside."
Traveling Artist, Terri Malloy, has been exploring the United States for the past 8 ½ years in her RV. Terri's artistic style and materials are strongly influenced by the different regions she visits Although Terri travels quite a bit, Tallahassee has been in her heart and her place of residence since 2019."I'm so excited to be included in the contest! I'm making a birdhouse sculpture for a bluebird. The base house is made from 3/4″ untreated wood. This will be a natural woven sculpture made from vines, cats claw, moss, palm fronds, and other gathered natural items that will surround the nest box and continue down the pole. The pole is a solid bamboo piece found in a small bamboo forest near Alfred Maclay Garden State park (permission granted)."
Terri's inspiration for her birdhouse comes from a popular project she worked on in Alfred Maclay Garden's State Park — the Gnome Tree! Terri worked with the coordinator to create an art project to coincide with the popular hike to the Gnome Tree and is inspired to again use natural materials to create a unique home, for bluebirds this time call the "Bluebird Oasis", made primarily from materials she gathers while hiking.
Jeff Byers is a recently retired teacher of twenty-seven years from the Taylor County School District with a long list of art-related accolades. He is skilled in a variety of artistic mediums and loves giving back to the community!
Jeff is naming his Birdhouse Sculpture "D. Puckett Birdhouse", named after LeMoyne's founding Executive Director, Dick Puckett. "When I arrived back in Florida, I met with Dick nearly 30 years ago. He was very encouraging of me and the artwork I presented. He was kind enough to offer a solo show at the LeMoyne. I declined due to not having the financial resources to produce enough art for such a show. This is my small way of saying thank you."
Karen B. Robertson is a mixed-media artist filled with ideas and enthusiasm! Karen is a nationally awarded artist whose work has been shown in magazines such as Veranda, Coastal Living, House Beautiful, Southern Living, Town & Country, and many more. Karen is an avid gardener; her property in Tallahassee includes sixteen beautiful gardens, a greenhouse, and a custom-built studio. She is well-known for her painted leaf sculptures, which can be found in LeMoyne's Gallery Shop.
"This Birdhouse Sculpture project is so exciting, I have been working on it for quite some time. The first thing I had to conquer was to make sure architecturally everything was perfect for birds to make their home, ensuring ventilation. There is a door in the back for easy cleaning and I will be including nesting supplies for the birds. I'm also taking apart large pinecones and making shingles for the roof!" Karen is focusing on shades of blue for her sculpture, using pieces of China and Seaglass, inspiring her title "Wings To Rhapsody In Blue". She also incorporated recycled materials such as thread spools, piano parts, and turned wooden legs from old furniture. Karen used a mix of natural materials including bamboo, wood branches, cedarwood, shells from her lake, and other natural materials from her gardens, with a large tree trunk for the base.
Cheryl Sattler is originally from Florida and has been working with glass since 1999. You can tell by looking at her glass what's important in her life – her furry babies, her garden, the ocean, and color.
Cherly's Birdhouse Sculpture "Dream Flight", started by using sheets of colored glass, cut and arranged into quilt-like components for firing. This piece has 7 components for the birdhouse itself, 4 more for the wings, and another for the base. Once fired, they were cut again to fit, assemble, and then adhered with archival supports. The wings are constructed from irridized glass with an extra shine, and wording will be added through a reverse bas relief technique. The base, cut in the form of a cloud, is colored with ground glass and fired separately. You can also find Cherly's work in LeMoyne's Gallery Shop.
Dan Taylor is a Tallahassee artist best known for his abstract paintings featuring bold, striking color palettes. His paintings have become highly sought-after and have been featured regionally at the Tampa Museum of Art and locally with the Council on Culture & Arts, LeMoyne Art Foundation (board vice president), Venvi Art Gallery, Gadsden Art Center, Hotel Duval, 621 Gallery, and FSU's Oglesby Art Gallery. He has volunteered countless hours of his time and been generous with his talents to raise funds for organizations and causes he cares about. Dan also works in precious metal clay to create unique jewelry designs and he produces large-scale garden sculptures in steel, wood, and various other materials.
Dan's Birdhouse sculpture includes a cedar base, reclaimed PVC pipe, and natural plants. Dan let us know that he found this project to be very compelling. Much of his work in 2-D painting is abstract with mid-century modern sensibilities, both in style and color palette. He was excited to try to transfer that mid-mod aesthetic to the birdhouse, hoping to evoke a hip and cool '50s vibe. You can also find Dan's work in LeMoyne's Gallery Shop.
Scott McLuckie grew up in a creative home in the suburbs of western Pittsburgh and was raised by creative parents who took him to art galleries and exhibits at an early age. His mother was skilled in needlepoint, sewing, and decoupage and his father loved to draw, paint, and work with ceramics.
"I find inspiration in mixed media, which allows me to use many different talents to express my creativity through art. For this sculpture, I am using all reclaimed materials. I find that I am best when I work from a sketch and build and develop the piece from there; laying it out and moving parts around until they all find a home. I like the whimsical nature of the birdhouse concept and hope that the birds will enjoy it as well."
Marcie Presiler is an artist of many talents, focusing her skills on a Flying Saucer Resort Birdhouse Sculpture for the downtown Pop-up Exhibit and Silent Auction! Marcie covered repurposed PVC pipe with fused glass for the base, incorporating her passion for mosaic with glass, tile, and found objects. She is made the rings by slicing empty bottles with a tile saw, then fusing them in her glass kiln.
Marcie was born and raised in the Panama Canal Zone, by the ocean and in the jungle, where she developed a love of bright colors and the beauty of the natural world. Her early interest in art led her to an MA in Studio Art from the University of New Mexico with a concentration in metalwork. Having spent many years in New Mexico, a beautiful place with bright colors that contrast with the arid landscape, she then moved to Florida, back to the Tropical colors and contrasts of the little Latitudes. She works with many up-cycled materials as well as fused art glass and mosaic. "This project is a fun combination of up-cycled pieces and original artwork. The base is a truck muffler & PVC pipe that becomes the landing spot for a Flying Saucer Birdhouse at the Space Station Resort of Fly-o-Rama." You can also find Marcie's work in LeMoyne's Gallery Shop!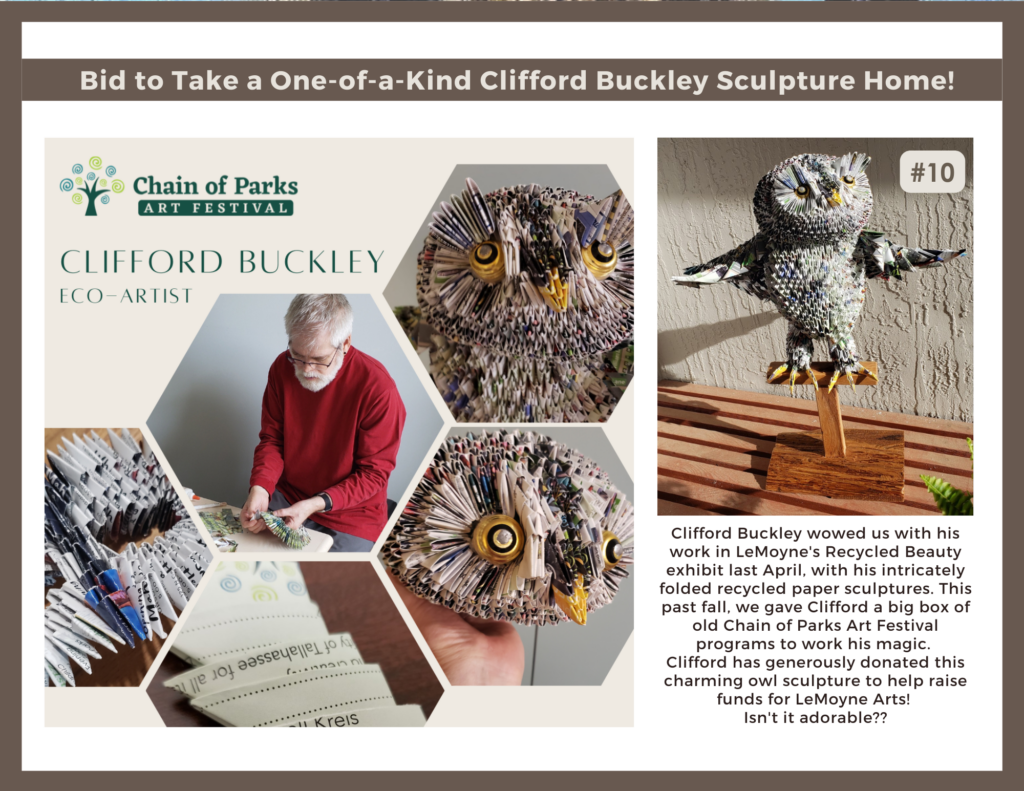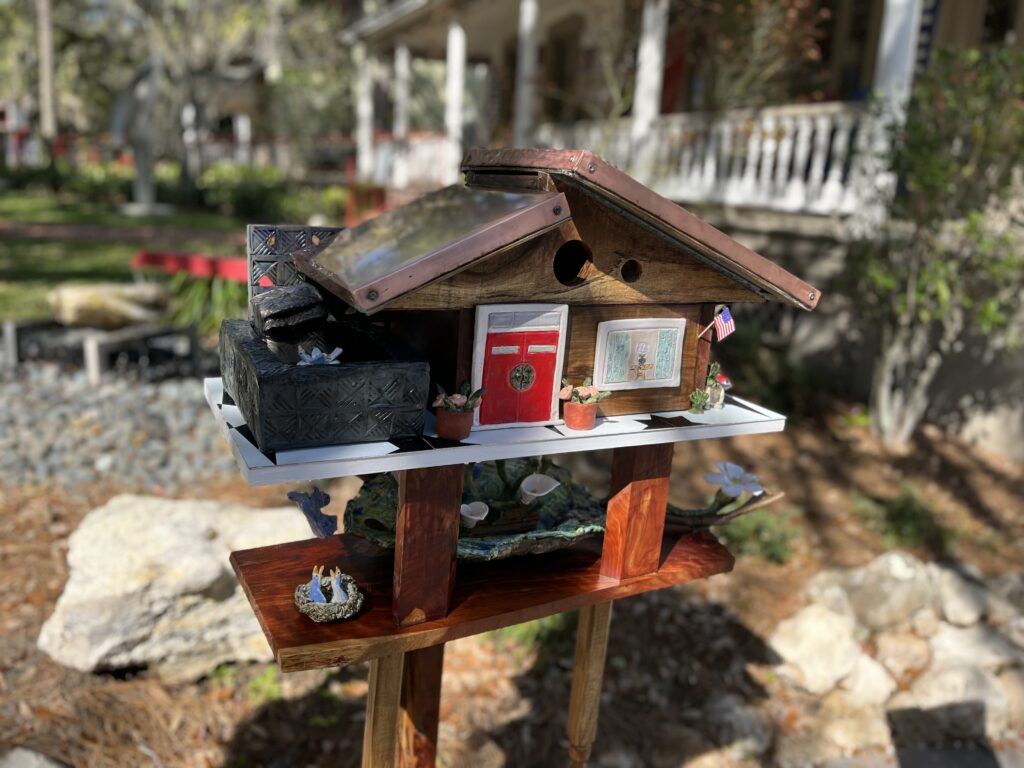 By Faye Johnson